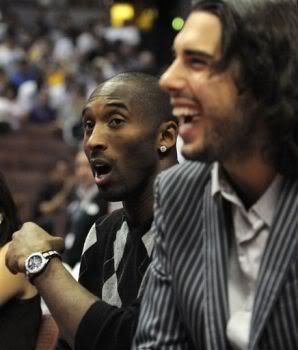 Kobe can't believe he shot 5-24 in game three. Sasha just made a fart joke.

After two games, the Lakers held a 2-0 lead over the Utah Jazz, surrendering large leads before finally putting away the less talented team. At the end of game one, Phil Jackson was furious with the effort that his team put fourth. Mind you, the Lakers led by 20 points in the first half and won by 10 in game one. Jackson was quick to point out that you're not going to win another 15 games that way (the amount of wins the Lakers need to raise banner number 15). As usual, Phil was right.

The Lakers led the Jazz by 13 points in the third quarter of game three in Utah before allowing the eighth seed to creep all the way back and steal one at home. With a horrendous 5-24 shooting from Kobe, the Lakers didn't help themselves shooting a paltry 62% from the free throw line. My boy the Hypeman pointed out the silver lining that even with Kobe somehow turning into Stephon Marbury over night, the Lakers managed to only lose by two.

There is no silver lining. Disinterest is a symptom of laziness. The Lakers played two disinterested games after amassing large leads in game one and two and it came back to bite them in game three. If the Lakers were interested in actually putting away the Jazz, they would be running the same pick and roll with Kobe and Pau that tied the game with 11 seconds left when they had to have a bucket, more than once.

Last year, the Jazz also won game three before the Lakers took the next two to win the series 4-1. So, I'm not freaking out over one game. But it's very telling for a team that preaches focus, dedication, never underestimating your opponent and a renewed effort on the defensive end to allow a less talented team playing in a must win game to come back from 13 points and win game three after you almost let that Jazz pull the same trick in game two.

The Lakers will win this series. They're too talented for the Jazz and with a determined Kobe killing himself for that fourth ring, I'm keeping the faith.

But why must the Lakers make that road so much more difficult? Is it laziness, or are they just bored?
Read more!