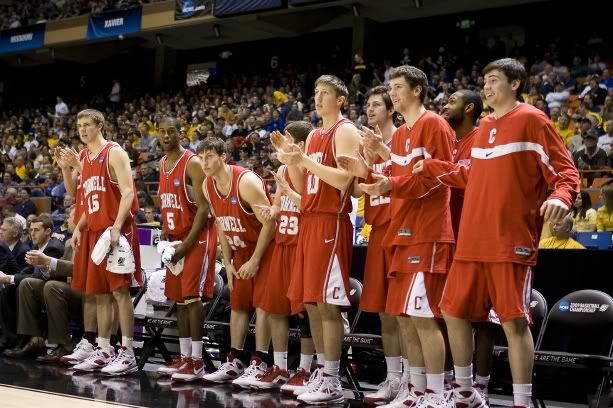 Cornell's vaunted white wash knocks Temple out and ends my run on lastfanstanding2010.com

Bracket Buster? More like Bracket nuclear bomb. March Madness is in full swing and we've had two of the most intense days of the tournament ever. Lower seeds are causing noise in virtually every region. While my bracket isn't quiet in shambles, it's not looking pretty either.

According to espn research (courtesy of Bill Simmons), out of the 4.8 million brackets entered on espn.com, 56 remained perfect after day one. If you're counting, that's less than .001%. Compared to last year, day one produced a total of zero upsets.

I've been writing for the website www.lastfanstanding2010.com. They selected 64 bloggers, assigned them one tourney team each and as long as your team keeps winning, you keep writing. Cornell and their all white starting five destroyed my team, Temple. This was like Hoosiers all over again.

It was fun while it lasted.

The day's not over yet and there's an entire weekend of round ball left. Can't wait to see what happens next.